The lastest premium Jiu-Jitsu GI from Tatami Fightwear
Constantly striving to break boundaries on BJJ apparel - we introduce to you the Tatami Fightwear Classic Gi. A minimalistic Gi packed with advanved technical details to keep you looking fresh and give you the extra edge in training and competition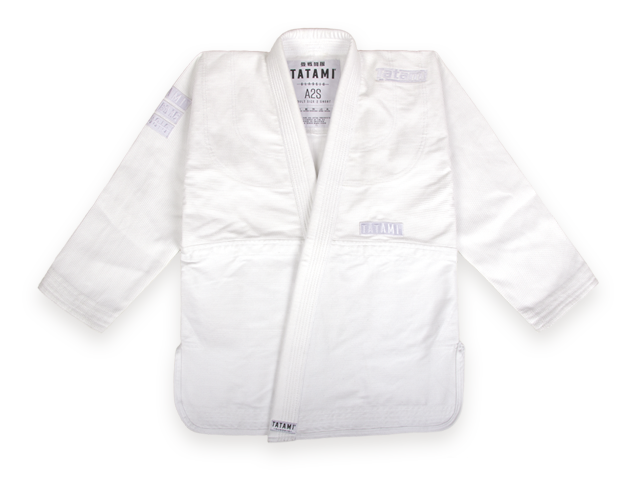 Product Description
Constantly striving to break boundaries on BJJ apparel - we introduce to you the Tatami Fightwear Classic Gi. A minimalistic gi packed with clever technical details to keep you looking fresh and give you the extra edge as you take to the mat.
We've worked tirelessly researching and developing to make the Classic gi the ultimate competition gi.
The jacket contains a dual weave construction. A middle seam covered with interior canvas taping separates the top and bottom half. The top half has a tough and heavier 550GSM pearl weave fabric with the bottom a 350GSM that means the jacket sits lighter on your body and ensures a more comfortable fit.
While the collar on most gi's matches the fabric on the pants, the Classic features the same pearl weave fabric as on the rest of the jacket. This anti-grip technology is 250GSM with a rougher finish that means your opponent will have a tougher time getting a handle on you. This is replicated with thicker sleeves to give you an extra edge.
The Jacket has been slightly shortened to replicate a competition fit with curved side vents. The last thing that anyone wants in training or competition is to feel like a looser jacket is causing issues and this technical design circumvents this issue.
The pants are made from 12oz twill cotton with 550GSM pearl weave gusset. 4 rows of ankle stitching with rip stop binding reinforce the strength of the pants while producing a lightweight feel.
The design of the gi produces a bold but minimal aesthetic. Available in white, black and blue, unique Classic patches are embroidered on the chest, right sleeve, left thigh and back of the colour. With same colour embroidery, the Classic produces a traditional look while introducing a high quality competition cut.
Delivery & Returns
EU Shipping
We use the world leading couriers and postal services to ensure you get your parcels on time.

From time of ordering we aim to dispatch all orders from our warehouse within working 3 days. At busier times such as sale and promotional periods we reserve the right to ship up to 5 days after the order has been placed. Next day orders (if option is available) will be shipped as a priority over flat rate shipping orders.
Please Note: During periods of national and worldwide hardship, the below delivery timescales may be extended at short notice.

Duties & Taxes
Please note that as the United Kingdom has now left the EU duties and taxes will be payable on all ordered shipped to the EU. You will be contacted by the applicable carrier when your order arrives in your country to make payment for duties and taxes owed. This depends on the EU country you are based. 
Please visit our Terms & Conditions page for more information
Services & Times
Tracked postal & courier service. Can take up to 10 working days after shipping to reach its destination. We reserve the right to use a multitude of carriers including and not limited to Royal Mail, DPD, UPS, DHL or Fedex.
For more information please contact cs@tatamifightwear.com
How do I return an item?
Vist Our Returns Page

For more information on our refund policy and all terms and conditions please visit the other relevant pages in the footer.